This is just a sad situation all around, I am not sure about this one. She's messy. I don't know who to believe" Listening to Majah, youtube response the relationship was Toxic from the beginning. He was dangling, she was dangling, she moving baby daddy in.
when you leave out off a toxic relationship one needs to give themselves time to heal and find themselves oppose to jumping right into another relationship. One of the troubling thing is the responses I've been reading, I had to sit back and take a deep breath. Here are the links to both sides be the judge. Domestic Violence is on the rise women, as well as men, please don't suffer in silence. https://spiceislandqueen.com/resources/
Majah Hype last week suffered a mild heart attack and was hospitalized. He later revealed that the cause of his heart attack was because he had been stressing over "certain things." Now, it seems that problems within his relationship might have been affecting the comedian.
Majah Hype has declared that he's not a woman beater, days after his former fiancée accused him of being violent towards her.
"I still have love for Kirby today," he said, breaking his silence via Instagram to address the allegations from Latisha Kirby.
"I have no reason for that. I am not a woman beater and I never thought about being a woman beater," the comedian said.
Stating that he loved Kirby and wanted the best for her, Majah Hype denied all of his ex's allegations. In fact, he claimed he was the victim.
"I warning every man out there, don't allow women to hit you, don't let women subject you to being abused," he said, stating that he was ashamed as a man.
He said he never cheated on her and admitted to having one "sexual experience" with another woman.
While admitting that he did go through Kirby's old phone because he was suspicious of her suspicions of him, he denied leaking any sex tape.
"I know Kirby has a son, no way in the world would I release any video of her in a compromising position, not only would it make her look bad, it makes me look bad," he said.
Turning the tables on Kirby, Majah showed screenshots of conversations and images found on her phone, including one with a popular soca artiste, claiming he has to tell his truths.
Criticising Kirby for airing her issues on Instagram, he asked: "What was your real motive? To get followers? If you were healing you would take the real actions to heal. Counselling and therapy is healing, that is what I am gonna get," he said.
He ended his live with a reading of Psalm 23.https://youtu.be/F2HX2iPPiBo
Majah Hype's Estranged Wife Says He Abused Her For Years In Tearful Tell-All
by Devi Seitaram December 3, 2020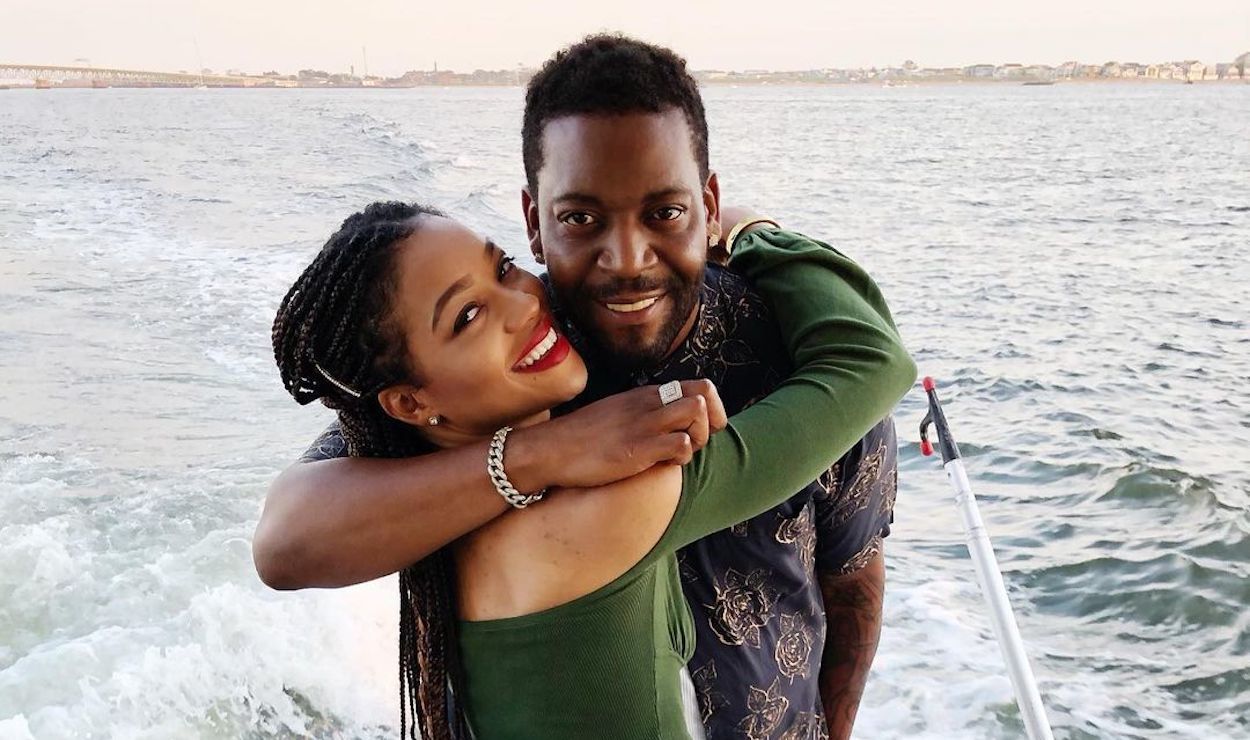 In a lengthy Instagram post, the wife of comedian Majah Hype alleges that she has been battered and abused by the comedian during their relationship. In her #WomenWednesday chat with her fans, she laid bare the shocking abuse allegations in an emotional speech.
Majah Hype's ex, whose name is Latisha, a Brooklyn resident, took to Instagram to apologize to friends and family who she isolated herself from because she says she was unrecognizable after being beaten by Majah Hype and couldn't answer her facetime calls as she hid the abuse that she says has been going on for years.
"I wanna apologize to my mother, my son, my sister, to my niece, to my friends. I detached myself from the people that loved me the most for a long time. I owe you guys the biggest apology. What I've been going through, the average person doesn't go through that in a whole lifetime. I've been keeping it a secret for a long time. Hiding abuse is a full-time job. You have to detach yourself from your loved ones, so they don't know. I did that for a long time."
https://www.lindaikejisblog.com/2020/12/facebook-comedian-majah-hype-explains-why-he-released-his-ex-fiancees-sextape-alleges-she-cheated-on-him-and-beat-him-up-photosvideos.html